Being stuck behind a desk or in a cubicle from 9 to 5 can be tedious, particularly when you're dreaming of adventuring to far off places. Most regular people get a reprieve from the rat race for just two weeks each year when they take vacations to reset. They spend the rest of their time getting work done and dreaming of the opportunity to explore foreign lands and new cultures.
Instead of working at a job where you can only travel once or twice a year, why not get a job that requires travel as one of your duties? This way, you can explore the world while earning money and building your career.
Jobs Where You Can Travel
According to the Bureau of Labor Statistics, in 2015, 24% of employees did part or all of their work from home. That's up from 19% in 2003 and the trends indicate that more and more workers will start working remotely.
Jobs that allow you to travel don't just include remote or work-from-home opportunities. You can also earn a living by choosing employment that requires travel as part of the job's duties. Business professionals often have to travel to meet new and existing clients or to attend conferences or close sales deals. In fact, the Bureau of Labor Statistics states in the same study that 38% of management or professional employees worked from home in 2015. None of these options sound appealing? Other opportunities include gigs such as housesitting, babysitting or travel writing where you can travel from place to place working.
Join the movement and find jobs that allow you to travel while working from home or by landing positions that require travel.  To help you out, we've created a list of 10 jobs that require travel or allow you to travel as you work, so you can get out there and start adventuring.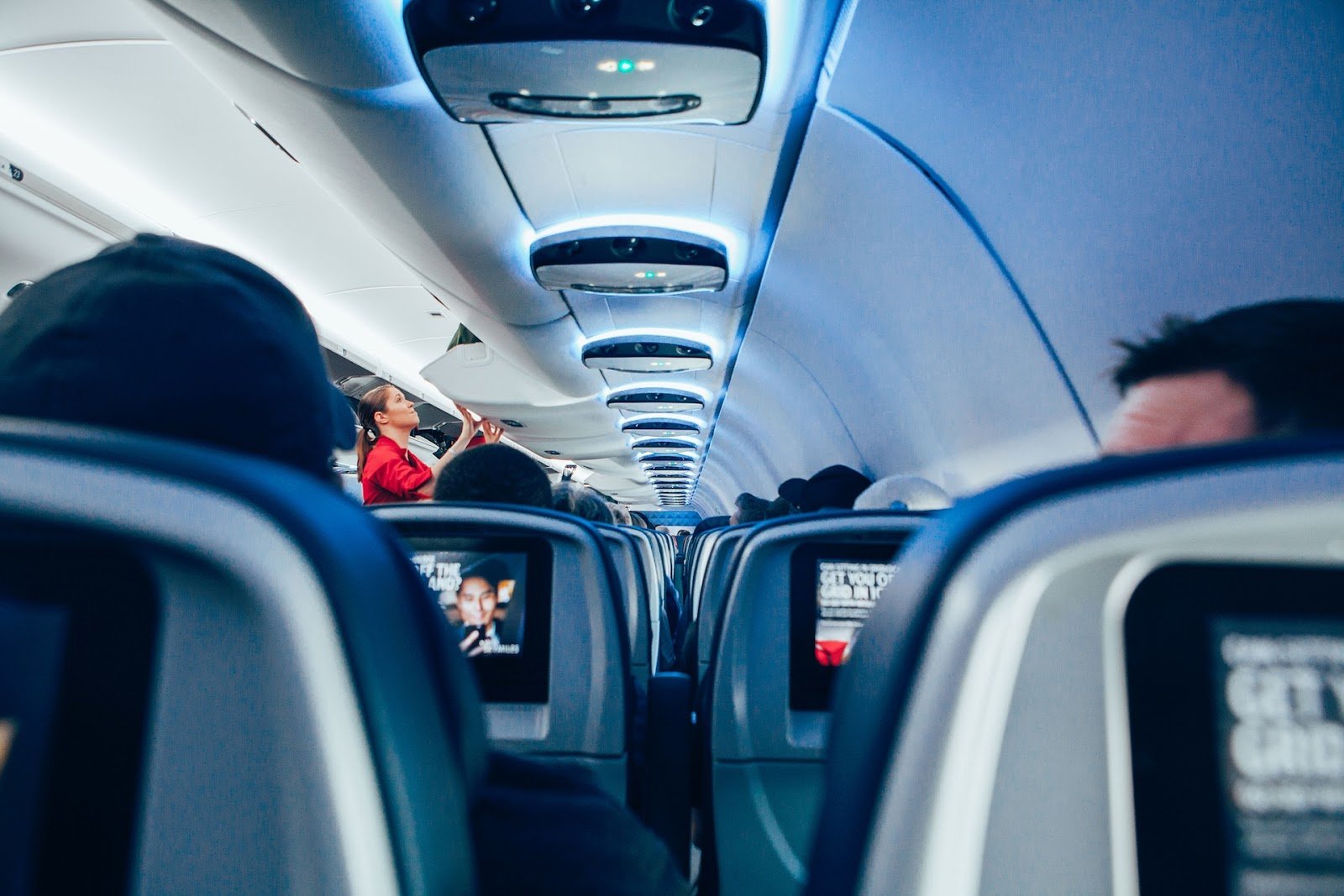 1. Flight Attendant
One of the best jobs that allow you to travel is being a flight attendant. Most flight attendants start out in the United States initially, before being allowed to operate longer flights that hit travel destinations such as Japan, Canada, and Southeast Asia. You'll travel on stunning aircrafts to different countries all while earning a nice income and good benefits.
Requirements for being a flight attendant vary among different airlines, but most require you to be able to reach the overhead bins and stand on your feet for extended periods of time. Additional experience as a server or in a customer service-facing role is useful for flight attendant applicants.
Skills such as speaking a foreign language and CPR training are also highly valued by airline hiring managers. Many airlines post their job opportunities directly on their own websites and it's useful to pick an airline which operates lots of flights from your home airport to limit your commute time on flight days.
Flight attendants often work random hours and can encounter difficult or disruptive passengers as well as typical travel disadvantages such as jet lag. But, as a reward for your hard work, you'll earn free or discounted flights for you and close family members as well as the opportunity to see beautiful places across the world.
2. Cruise Ship Worker
Cruise ship jobs have a reputation for being one of the best jobs where you can travel. You get paid to see the world and interact with people from a variety of cultural backgrounds, all while collecting a salary and receiving free room and board. Since cruise ships offer almost every service imaginable, there are job opportunities for individuals from all backgrounds. You can be a server in one of the restaurants, a technician, cashier and even a performer in one of the ship's acts.
Cruise ship work can seem like a dream job to people who love to travel, but it also requires a lot of hard work and long hours. You can find job postings on Cruise Ship Jobs along with information on whether it's the right job for you and what to expect. Cruise ships depart from ports across the globe including popular destinations such as New York and Hawaii and while you'll work long hours, you are still given free time to explore the cities on your route.
"I've been a sailor, a merchant marine, since I was young," says Location Indie member Jill Friedman of CaptainJillsJourneys.com. "I got into it specifically to travel. I've been all over the world by sea. I love it for the opportunities it gives me to travel, and also for the large blocks of time off. It can be a fairly well-paid occupation too. It's not nearly as much fun as it was a couple of decades ago, but I would still recommend it. I started out as a deckhand/galley hand and managed to work my way up to captain. There are all sorts of jobs out there (especially on cruise ships)."
3. Travel Agent
For many years, the travel agency industry declined as people started going online to book their own flights and vacation packages. However, in the last few years, the travel industry has made a comeback thanks to its reputation and expertise.
With so many travel websites offering user feedback and reviews, it's hard to differentiate between opinions of seasoned travelers and one-time visitors. Travel agents, on the other hand, are experts in their industry and can easily tell a client if a certain hotel or locale will be a good fit for their preferences.
To be a travel agent, you need to have extensive experience travelling the world. You do not have to have a certification or license to be a home-based travel agent, but some states or municipalities require agents to complete a registration. For this position, skills and experience are more valuable than education degrees. You need to possess good attention to detail to avoid booking mistakes and you must also be a great communicator in order to understand and meet client requests.
4. Customer Service Agent
Many companies are taking their customer support departments digital, making this a sector that is seeing high growth in work-from-home positions. Customer service agents ensure a high-quality customer service experience and address any issues that customers may encounter.
To qualify for these positions, you need to be friendly and level-headed as you will be the first point of contact for disgruntled or upset customers. You'll need to be able to guide customers through a resolution process. Skills required to be successful as a work-from-home customer service agent include fast typing, fast Internet speeds, acute listening skills and a calm demeanor.
5. International Aid Worker
If you want to make a difference while you travel, consider being a Peace Corps Volunteer or an aid worker for an international organization such as the Red Cross or USAID.
In these positions, you'll visit countries across the globe that are in dire need of assistance during wars, famines and in the aftermath of natural disasters. Many of these organizations offer a full salary, housing, and student loan deferment and the experience will stand out on your resume.
Having a background in health, social services, agriculture and international relations is helpful when working with international aid groups. You may also be required to undergo medical evaluations or to get special vaccines and immunizations before you're allowed to travel to certain areas.
Working for international aid organizations can be taxing emotionally and physically and you'll regularly spend weeks at a time in remote locations without access to basic necessities. The work you will accomplish will make a huge difference in the lives of locals and you'll see parts of the world most people don't have access to.
6. Foreign Service Officer
If you love your country as much as you love to travel, you can combine your two passions into one rewarding career as a Foreign Service officer. Just like diplomats, these individuals travel the globe working on complex issues such as immigration, refugee flows, and disaster aid while representing the interests of the United States. Many employees interact directly with foreign governments and are assigned to new places every few years.
To qualify for these positions, you must pass the Foreign Service Officer Test and select a career track within the department. Positions are posted at the Department of State website along with guidelines on how to become involved with the Foreign Service and how to pick the right career path within the department.
7. Consultant
Companies regularly hire consultants to offer insight and advice on how to fix complex problems in their business and industry. The main skill required for consulting is to have specialized knowledge in a particular field. Since this knowledge is so exclusive, a consultant is likely to have clients dispersed across the country, and often across the globe.
Travel is integral to this job since close relationships with clients are important for maintaining working partnerships. For people who are social and love to travel, this job is an ideal way to see the globe while earning a great income.
8. English Teacher
If English is your native language and you are familiar with basic teaching concepts and skills, you can become an English instructor and teach abroad. The main requirements for teaching English generally include having a Bachelor's Degree and often some teaching experience. The good news is that working as a tutor, aide, or study leader can qualify as experience and for some companies that's all you need. Some companies will require you to have a TESOL or CELTA credential so it's important to find out the requirements before you apply.
There are companies online like VIPKID and DaDaABC that allow you to be an ESL teacher for students in China without leaving your home.  Several of our Location Indie members earn a living teaching through companies such as these.  All you need to do is set up a small teaching space in your house and the company creates lesson plans and finds students for you. Pay can be as high as $21 for each 45-minute session and if you teach enough classes, you can turn this into a full-time job.
9. Au Pair
One of the most famous travel jobs is being an au pair. While most common in European countries like France, these jobs are prevalent across the globe. Websites like InterChange connect au pairs to host families everywhere from America to Australia and New Zealand.
If you're responsible and are good with children, this is a great way to see a foreign country and make money. Au pairs live with a host family in exchange for childcare and assisting children with their homework or shuttling them to after school activities.
Some au pairs also earn an additional salary on top of their free room and board. Many host families bring the au pair on family vacations to exotic destinations so they can help with the children while exploring different countries.
10. Tour Guide
Imagine roaming the canals of Venice or tearing through the jungle in a safari jeep while sharing your love of travel with like-minded individuals. As a tour guide, you can travel the world and share your passion for wanderlust with other travellers on vacation. You need to be able to manage large groups of people and a background in history or local knowledge is essential to being successful.
Many tour guides work as freelancers, but there are also larger companies that hire tour guides to run their travel programs. The workload can change throughout the year and usually features a busy peak season and a low season where you may not have as many tours. If you love living out of a suitcase and sharing your love of places with people, this is a great job opportunity to combine with travel.
Location Indie cofounder Jason Moore got his start in the touring industry.  "I was a touring professional for 10+ years managing events and a couple of music tours and worked one summer as a tour guide. It's a fantastic way to go if you don't mind having your schedule dictated to you and just want to travel," he says.
See more here